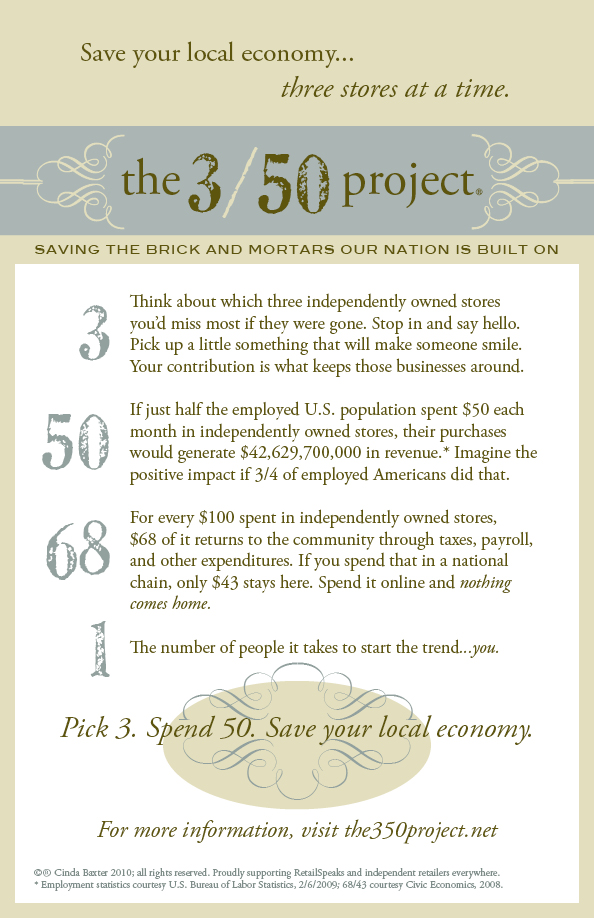 The 3/50 project was designed in support of one's local economy.  The basic idea is that if a person picked 3 local stores, spent $50 in each of them per month, the local economy would grow immensely.  Since we decided to start our life and business here in Cleveland, I have been fully committed to our economy.  This holiday I have decided to fully embrace the idea behind the 3/50 project.  Everyone who receives a gift from the Widow family this season will receive something bought at a local business. My challenge to you this season is to do the same.
Skip Target this year. Support our friends that make Cleveland the city we all chose to live in. You may not be able to buy more gifts in quantity this way but the quality and thought behind each gift will shine through. There are SO MANY amazing places in this city to support this season and so many great holiday events, that I have compiled a list of some of my favorites that I will be purchasing holiday gifts at this year:
STYLIN'
The Banyan Tree offers many different gift options for many different folks.  They have an amazing clothing selection for men and women.  They also feature kids clothes, super rad jewelry, home elements, accessories, plus...I fell in love with the business card holders.  I am such a nerd.
I discovered Revive after we moved to the heights.  It is 3 blocks from my house and I found myself perusing the fair trade items one day before picking the boy up from school.  I was certainly surprised to see that they carried Ethos Paris, a line of fair trade clothes from Paris, a perfect gift for a conscious minded fashion forward gal.
Danielle DeBoe, owner of Room Service, makes it hard for you not to love her shop.  She is a sparkling personality whose love for the city is self evident.  She stocks her store with goodies and she tries desperately to sell as many local products that she can.  She even goes as far as opening a holiday shop, Made in the 216 that features gifts made by Cleveland designers.  Her store offers something for everyone, from the book lover to the vintage concert poster lover.
LIBATIONS
I love my coffee.  I tend to make my brew at home in a french press or my Dolce Gusto however I sometimes find myself craving something more.  At those times, Erie Island Coffee saves my day.  Located across the street from the restaurant (on east 4th), EIC offers deliciously warm, caffeinated goodness.  For those coffee lovers out there, a gift card makes a simply warming present.
My best friend and her father have brewed beer to give as gifts together every Christmas since we were in high school (of course she absolutely NEVER drank it when she was under 21).  The Brew Kettle is their preferred venue for this activity.  They offering brewing and dining, so you can eat before you brew, while you brew, or after you brew.  The best thing about this gift is that it is LOCAL and HANDMADE.  Can't get much more thoughtful than that.
Besides the Chef and the Iron Chef, my other favorite man in this city is Erich Lasher, self proclaimed beer nerd, my friend, and very knowledgeable owner of La Cave Du Vin.  Since the cave is within biking distance to our house, I find myself enjoying it weekly.  A fan of sour beer (aka lambic) I am immediately drawn here because of their fine fine selection. And sometimes it's even on draft.  And sometimes that draft is Cantillon.  Mmmmmm. Oh yeah, they have wine too.  A gift certificate for the serious beer or wine drinker will ignite their taste buds and possibly introduce them to something new and delicious.  They also have gift sets.
FLAURA & FUANA
The other morning the kids and I went to the butterfly museum.  As we were leaving Catcher ran into the Cleveland Botanical Gardens Museum Store before I could yell 'NO!'  I followed him in praying that he didn't plow over something made of glass and found myself smack dab in the middle of awesome.  The Botanical Gardens store has almost everything for the flower lover or gardener.  They even have holiday decorations with a floral theme.  I know because I bought some.  Who doesn't want a mini Christmas tree made of funky red bulbs?  I asked the gentlemen behind the counter where the proceeds went and he informed me that all sales went directly back into the museum.  The kids section is also pretty cool especially if you have a boy who hearts bugs like I do.  (gift cards and museum memberships also available)
After dining at Big Al's Diner (see foodie section below) this morning, the family took a walk on Larchmere.  We discovered a great little flower shop called In Flora Veritas. The owners Claudia & John were there and I found out that Claudia has a background in interior design.  Most of her arrangements reflect that.  In Flora Veritas also has some really cool gift ideas including beautiful hand blown vases, very cool garden fountains, and a really funky pig (that I desperately need to go back and buy).
TUNES SCREEN PAINT
Right now one my absolutely all time favorite painters has an exhibit at The Cleveland Museum of Art.  His name is Gauguin and he's got some talent.  The Cleveland Museum of Art Store is home to many many exquisite gifts featuring such artists.  I am personally fond of these.
I buy play tickets for Christmas like Danny DeVito drinks Limoncello.  The Playhouse Square is my go to for all tickets.  Last year I bought my dad tickets to The Bard's The Comedy of Errors (it was fantfreakingtastic) and this year I plan I buying him tickets to this. Good thing he avoids my blog like the plague or my grand plan would be RUINED.
Movie passes are a great holiday gift.  But movie passes from LOCAL NON CHAIN theatre is the most superb gift of all.  And guess what Cleveland?  We have some kick ass indie theatre's in this city.  Kick ass.  The CINEMATHEQUE shows classics like 8 1/2 as well as a new flicks like Jim Jarmush's The Limits of Control.  They have 2 locations, east & west. Ceder Lee is a staple of anyone who grew up in Cleveland.  Indie films and beer.  A perfect combo for a perfect night.  (gift cards available at both locations)
MUNCHKINS
The kids are obsessed with Play Matters Toy Shop.  I have a feeling that most of my holiday shopping for them will take place here.  Play Matters is pretty cool because all of their inventory focuses on play.  Role play, doll pay, interactive play, brain play, exercise play...it's all there.
Cleveland Museum of Natural History Gift Shop sells all things dinosaurs.  That is seriously all you need to know. D-I-N-O-S-A-U-R-S!!!
Stores that give back to the community always attract me more than stores that don't.  However, even if proceeds from Sunbeam didn't go to the Vocational Guidance Services, I would still heart the store.  But they fact that they do makes me HEART them even more.  Sunbeam is filled with darling children's clothes, toys, activities, and love.  The shopkeeper Janet makes you feel like you have known her for a lifetime.  Sunbeam is a  great business and that is sure evident in the fact that they have been open for 29 years.
Playhouse Square is mentioned twice on this list because tickets can also be a great gift for kids.  The Children's Theatre Festival is a great great tool for introducing the wee ones to the wonderful world of music and drama.  We have taken the boy to see The Dream Jam Band and I am looking forward to taking them both to the show in May 2010.  They also have a super cool Very Hungary Caterpillar show for the munchkins in January, the widow family will be there with bells on.  Introducing your kids to something besides th TV and the Wii this year will surely be the best thing you could ever do for them, holiday or no holiday.
FOODIE
Remember awhile back when the Chef & I GOT MURDERED in the Most Interesting Couples Contest?  Well after we sewed our ego's back together I discovered that even though we lost (horribly) we actually won.  How's that you ask? Well friends, we won because we actually learned about some really really interesting people including Amanda owner of Tremont's own Lilly Handmade Chocolate. The Chef has bought me chocolates from Lilly multiple times.  He really loves to buy them for me when he's in trouble,  like he was last night.  Ahem.  I don't see any delicious chocolate sitting around????
For the foodie friend or family member, a CSA membership could be the best gift they receive.  Farm Share is a local CSA that brings fresh local veggies, fruit, and breads to your home year round.  This truly is the gift that keeps on giving!
I am a terrible cook.  I would love to learn how to cook if only there was someone who could teach me.  Hmmmmm....That's why cooking classes are a brilliant gift for the holidays.  And it just so happens that a very cute boy from Cleveland will be offering up some of his culinary skills at Chef School.
Supporting local restaurants is KEY to supporting your local economy.  And that's not just because we own one.  When you support your local restaurants, you are supporting a whole gaggle of people.  From the employees to the purveyors to the farmers.  A gift certificates to a Cleveland Restaurant this year will also allow you to introduce someone who doesn't have a clue about how phenomenal our culinary mecca of Cleveland is.  So GO OUT & buy gift cards from every single one of these phenomenal establishments:  The Greenhouse Tavern, Lola, Happy Dog, Farenheit, Momocho, Flying Fig, Lolita, Bar Symon, Sweet Melissa's, Tartine Bistro, Lucky's, The Baracelli Inn, Luxe,  Big Al's Diner, and countless others.
I am GIVING YOU my word that I am only going to buy from local proprietors this holiday season.  I would like you to do the same.  I... have a challenge for you.  For the next 30 days I would like you to buy ALL of your holiday gifts from local stores.  You may not be able to get as many gifts as you would from Target or Amazon but I promise you this: the thought that you put into the gift will show.  When you buy at local shops you actually have to think about what fits the person you are buying for.  Where as when you buy online or at a giant conglmerate you can be easily swayed by so many different things: advertising, marketing, sales, etc.
My challenge comes with great reward.  I have a phenomenal giveaway for ONE fortunate Chef's Widow reader.
Ready?
One month from today, December 14th, I will give a reader of Chef's Widow the following local items:
a SIGNED copy of Cleveland's Iron Chef  Michael Symon's Live to Cook book.  SIGNED bitches.
a beautiful Banyan Tree gift box featuring a Gardenia candle, a stunning woven pearl necklace, a beaded shell bracelet, a wooden jewlry box, and a funky pillowcase.
a pack of four (4) tickets to Playhouse Square's Peking Acrobots show in February
a twelve (12) piece box of Lilly Handmade Chocolates
a pair of Greenhouse Tavern Reidel Wine Glasses
a $25 gift card to La Cave Du Vin
a Welcome to Cleveland tee from Room Service
an Erie Island gift card, good for some coffee deliciousness

Pretty spectacular right?  Wanna win?  Here's how.  There will be 9.7 millon ways to win.  You can enter once or try them all...
Tweet a link to this post.  Make sure you include my twitter handle/@chefswidow.  Leave a comment with a link to your tweet.

Post a link of this giveaway on YOUR own blog.  Leave a comment with a link to your post.

Share this post on your Facebook profile.  Leave a comment with the link to your profile.

Leave a comment telling me what your favorite LOCAL gift buying haunt is.  I will frequently update the above list with your comments.

Last but not least, shop LOCALLY for the holidays, copy your receipts (w/ all financial info blacked out) and mail them to me at the restaurant: The Greenhouse Tavern attn: Chef's Widow 2038 East 4th Street Cleveland OH-IO.
Bonne chance bitches...and remember every dollar you spend locally truly DOES make a difference.