1.  Marco Pierre White
Might as well start off crazy.  I love me some crazy.  He's Italian and British and considered the original celebrity chef.  He's the youngest Chef ever to recieve 3 Michelin stars who promptly gave them up.  Badass.
2. Jamie Oliver
He gardens.  He has 2 daughters named after flowers.  His show was the best show I have EVER seen on the Food Network.  And he reminds me of my chef.  What's not to heart?
3.  Jean-Christophe Novelli
He's a chef conglomerate.  From cookery school to TV shows this man has he hands in everything.  And he's French.  And super sexy.  Mmmm.
4.  Marcus Samuelsson
AT 24 he received a three star review from NYT.  He's a 2 time James Beard award winner, a professor in Sweden, a restaurateur, and a very successful cook book author.  All before his 40th birthday.
5.  Michael Symon
He's one of my best friends.  His heart is made of gold and his food is filled with delish.  His laugh inspires happiness and his wife is hot.  He's on Twitter.  Plus he sends me silly text messages when I'm feeling blue.  Or red.
6.  Mathieu Palombino
He owns one of the hottest pizza joints in NYC and is married to one of the coolest chicks I've never met.  He's a dad.  Mario Batalli thinks his pizza is the cat's pajamas.  And he's from my homeland.  Viva L'Italia!
7.  Gabrielle Hamilton
She owns Prune (restaurant where the Chef took me for our first date in NYC) and my husband is madly in love with her.  Any gal that's good enough for him is good enough for me.
8.  Anthony Mangieri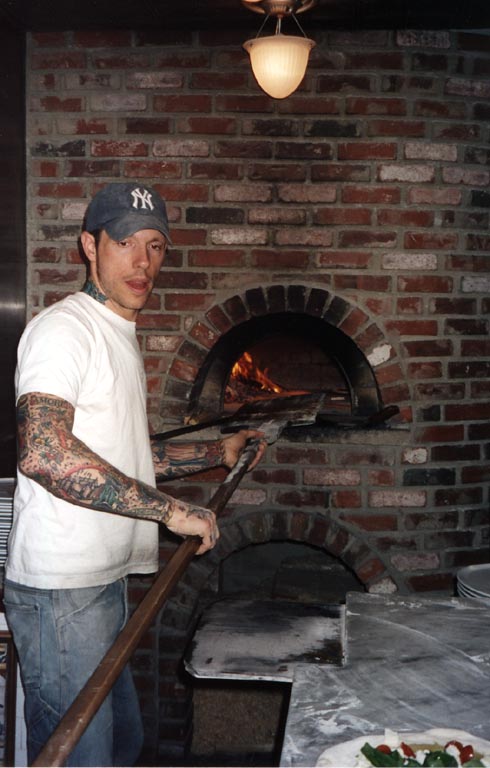 A tattoo'd pizza maker.  Be still my heart.  Anthony sold his joint, Una Pizza Napoletanato (one of my fave's when I was a New Yorker) to the above mentioned Matthieu Palombino in search of a less stressful life on the west coast. Dreamy... a laid back tattoo'd pizza maker.  What more could a girl ask for?
9.  Hung Huynh
I don't watch Top Chef.  I catch snippets when the Chef is watching it however it's not my cup of tea.  I did like the season with Hung. His passion prevailed and the way he can break down a chicken...oh man...H-O-T.
10.  Jonathon Sawyer
Umm.  Duh.  He's tattoo'd, he likes the Earth, his kids have sweet names and his wife is the raddest chick in Cleveland.  Heh heh.
As I was compiling this list I realized that someone I had forever had a crush on is uh not exactly as I remember him.  Apparently I may have had a few to many glasses of Rose the night I met him.  Boom Outta Here!
I included some of my all time favorite chef crushes and even found some knew ones.  Who might you have a culinary crush on?