I love watching The Golden Globes.  They remind me of my first days as a New Yorker and one of my first nights out with the Chef.  We hadn't moved in together & I was staying in Times Square (blech).  He took the train to meet me & we went bar hopping.  We hopped from tourist to trap to tourist trap and finally ended up in a quaint little bar that was having a golden globes party.  It was incredible.  Our bartender was amazing and passionate and hilarious betting (and doing shots) on each award presented.  Ever since that night the Chef & I share a special fondness for the globes.  Last night was no different, except we weren't doing shots & both mini's are devastatingly sick (again).  We had fun watching the awards and here are a few of my faves from the last nights show: Best Dress (that I could never pull off):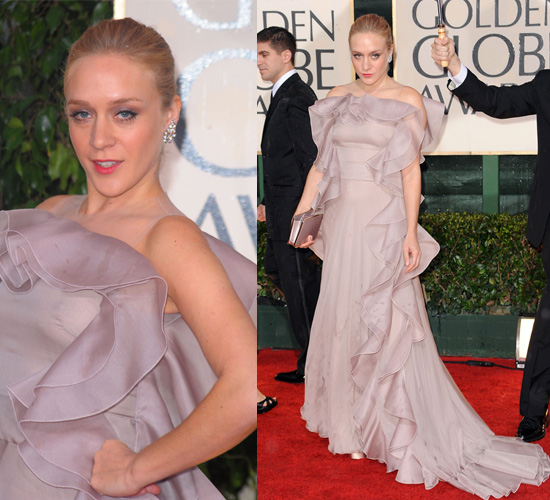 Chloe Sevigny ruffles the red carpet
Best Dressed that will most likely end up on Worst Dressed List
Drew Barrymore rocks out a Atelier Versace gown
Hottest Female of The Golden Globes
There is a reason Olivia Wilde is married to an Italian prince
Worst Dressed
Just because you're funny Tina Fey doesn't mean you should look funny.
Best Moment of the Awards.  Best Acceptance Speech.  Best Everything!
Robert Downey Jr. made the awards worth watching with his illuminating speech and brilliant gratitude for his wife. Love it.
Who were your faves of the 2010 Golden Globes? Any upsets that you couldn't believe?
***Today is MLK Day.  I hope we can all take a moment today to reflect on the world that would be had MLK not existed.  We are all connected.  We are all one.