As the Chef opened the door to one of my favorite pizzeria's in Brooklyn I noticed the man behind me.  He was well dressed, tall, and sporting a beard like the Chef.  We all walked into Franny's together and I soon realized that the well dressed man who had walked in with our group was in fact, Jake Gyllenhaal.  He was accompanied by Anne Hathaway and soon both of our groups would be stuffing our faces with delicious pizza and Lambrusco next to one another. This post isn't about Jake Gyllenhaal though, nor is it about a celebrity sighting.  I am a terrible terrible celebrity stalker. iphones take shitty pictures in the dark and even if they didn't I wouldn't feel comfortable trying to take a pic of a total stranger. Too invasive for the likes of me.  Unless of course it was Ewan McGregor...mmmmmm.....Ewan.
Moving on.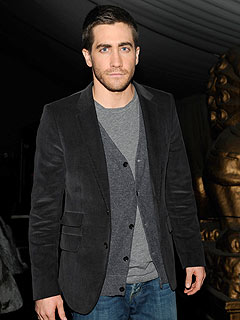 This post is about the well dressed man or lack there of.  When Donnie Darko walked past us I (and the rest of the women and men in Franny's) couldn't help but notice how darn attractive he was.  Tall & brooding, part of that attraction was absolutely due to the way he was dressed.  He looked like a movie star.  Navy sweater paired with a brown overcoat and knitted scarf. Dress shoes and jeans.  Mr. Brokeback looked stunning.
Now I know that we don't all have Jake Gyllenhaal money.  We don't have a personal tailor or stylist.  Most of the men I know rely on the stores they shop at to tell them how to dress.  My husband shops at Gap or H & M (well not so much H & M anymore after this) and usually comes home with the standard sell, t shirt and jeans.  It does not make me happy.  I can't stand they way most men dress.  Hipster especially.  Skinny jeans do not look good on boys.  At all.  Grow up.  No one really wants to see your junk.  Also, sweatpants and sports jerseys are not appropriate leave your house attire.  I get it.  We all get it.  You love the Browns.  Good for you, now go home and put on a pair of pants that have a zipper.
Boys in Cleveland are not the best dressed men.  They could be though.  Check it:
I believe that there are five key elements to a well dressed man.
1.  Have a relationship with a tailor.
The chef is short.  When he buys pants they are always always too long.  For years he skipped the tailor and rocked the jeans long.  He looked homeless.  Now he gets every single pair of pants he owns, hemmed.  Even jeans.   Homeless look averted.   Mission accomplished!
2.  Invest in a great sport coat.  Spend the money.  It's worth it.
We learned this lesson the  hard way.  Before the Food & Wine Best New Chefs event in NYC, I went shopping for the Chef.  I hit up Nordstrom rack in search of a sport coat that he could rock in NYC.  Our budget was next to nothing so I ended up purchasing a sale rack white linen Michael Kors sport coat.  Ugh.  What.  A.  Mistake.  The Chef being the burly chef that he is, looked like a marshmallow.  Needless to say, he wore a flannel to the event and left the horrible linen sport coat at home.
3.  Jeans.  Jeans.  Jeans.
Buy good jeans.  Try on jeans.  Don't buy jeans off of the internet.  Invest in your jeans. William Rast has been the Chef's choice as of late and I must say they bring out his finest attributes.  As in his attri-butt.  Har.  Har.
4.  Sweaters should be a staple.
Men look good in sweaters.  A sweater for a man should not be bulky or too thin.  Stick with a soft material.  Girls like to touch soft material.  Seriously we do.
5.  Dress shoes can be casual too.
I love when the Chef wears dress shoes with jeans.  I also love when Jake Gyllenhaal wore dress shoes with jeans.  Yum.   It's dead sexy.  Dress shoes are a very important staple of a man's wardrobe.  Donald J Pliner just sent the Chef these baby's and I can't even begin to tell you how rad they look with jeans and a sweater.  Scorching.
A well dressed man is a sexy man.  He doesn't have to have movie star good lucks, but a nice pair of jeans is a must.  A man who can dress well, is a man that women will notice.  Take note boys.  Take note.
Did I miss anything friends?
What wardrobe staples should a man always have in there closet?
What do you consider makes well dressed man?